Event date:
Sunday, 12 January 2014 - 7:27am
Dear Friends,
I take this opportunity to invite you and your family to attend 'A Man for others' – The Grand Finale hosted by our school on 12th January 2014 for an evening of music and dance by our students and teachers followed by the "Bond Of Boys Corner" where our alumni can once again meet with their batch mates and friends. Donor passes will be available at Rs. 1,000/-, 750/- and 500/- and I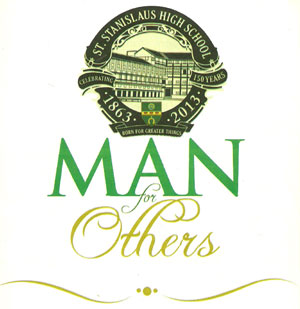 look forward to your support on this momentous occasion – an event of our life time!
The Sesquicentennary/150 years Commemorative Book will be released at the Grand Finale. Stay tuned as we finalize and publish details on our school website www.stanislausbandra.in

I seek your support to upgrade and enhance our school facilities to impart the next level of education and help keep our school relevant today while we remain committed to being "Men for others". To help raise funds a school souvenir is being published on the occasion.

A special appeal - to those amongst you who are professionals / business men and employees of companies which have Corporate Social Responsibilities to participate in this noble cause by advertising in this souvenir. For information please contact Perviz: 9167430053/ ssesa.bandra@gmail.com .

Download a Souvenir form now and support our school.

Best Wishes,
Fr Jude Fernandes SJ

Principal - St. Stanislaus High School
principal@stanislausbandra.in