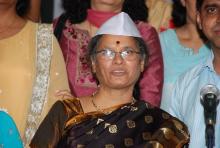 29th of February 2012 was a day when the St.Stanislaus auditorium shone with the brilliance of the young and dynamic Stanis-stars. It was a warm and loving show graced by ex-principals, ex-teachers, ex-students, PTA rep. family and friends. All of us had gathered to convey our sincere appreciation for Tr. Ulka's 27 years of meritorious service at Stanislaus.
The foot-tapping Lezim beats along with a very creative Rangoli put up by the NIOS saw Tr. Ulka being welcomed in true desi style with an aarti. This was followed by a prayer service which was "different", a very traditional, Indian way of paying homage and invoking God's blessings. The gathering was witness to the presence of "a little Bal-gopal", a Stanislite dressed as Lord Krishna, symbolizing the presence of God in every child. The prayer service concluded with Tr. Ulka sowing some pulses, which was symbolic, of how the seeds of growth, knowledge etc take root and bloom under a teacher's love and care, so a matka was placed by her. Tr. Ulka's love for Nature, her never say Die attitude, her poetic inclinations and her enthusiastic, adventurous spirit were highlighted effectively through the Choral Recitation, "Yeh Tara " song by the students and "Choti Si Asha" dance performed by the teachers. The "Gondhal" dance brought out the "Marathi" touch while "Om Shanti Om" was a fitting finale to the cultural program. In between the acts heart -felt tributes were conveyed by Frs. Errol, Lawrie, Leo, Gerard, PTA reps and Master Graham D'Souza an ex-student.
Tr. Ulka who has been a Hindi – Marathi teacher gave her farewell speech in English highlighting her willingness to learn and accept new challenges in life. As always she spoke "Dil-se" concluding with the line, "When the heart is full, the tongue is tied!!!! " Could there have been a more apt punch line ???
Thank you Tr. Ulka for being magnanimous enough to celebrate this special day a whole month in advance thinking of the Stanislite's welfare as always !!!
This is what makes you………" Hamari Ulka - Anokhi Ulka "