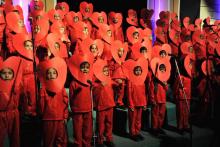 St. Stanislaus School concluded its yearlong Sesquicentennial celebrations by staging "Man for Others" a musical on the school grounds also referred to as the Grand Finale – it was based on carrying the legacy of St Stanislaus High School forward, with every Stanislite both past and present living the motto 'Born for greater things'.
The chief guests were Rear Admiral A.K. Chawla, Flag Officer Commanding the Western Naval Fleet and Mrs Chawla and the Guests of Honour were Mr. Jayant Banthia former Chief Secretary, Government of Maharashtra and Mrs. Banthia
With a full house in attendance the function promptly started at 6.30 pm with the singing of the national anthem followed by a short audio visual of the 'Out Reach' a social awareness programme that ran through the sesquicentennial year and was supported by a few other schools who also joined the Stanislites on stage.
After many months of preparations "Man for others" brought over 1000 students from the school on stage in a fitting tribute to Stanislites both past and present in living the values taught by St Ignatius of Loyola the founder of the Jesuits. Beginning with a prayer song and dance by the pre-primary students, to the IX std and the NIOS (National Institute of open schooling) students, it was a production that had involved the students, teachers, parents and ex-teachers and ex-students.
The Chief Guest along with the Guest of Honour, Shaan and the Principal released the Commemorative book celebrating this occasion. After a final bow by all the participants amidst a fanfare of fireworks and peace lanterns saw the evening conclude with alumnus Shaan coming on stage to join the students and audience in their singing the school anthem.
It was an evening to remember....