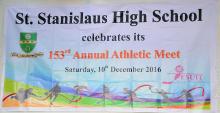 The 153rd Annual Athletic Meet was held in the morning at 9.15 a.m, on Saturday, 10th December 2016.
Chief Guests, Mr. Uday & Mrs. Mrunali Chavan, parents of Master Chinmay Chavan, Sports Captain, and Mr. Stephen & Mrs. Maya Pereira, parents of the Assistant School Sports Captain, Master Marven Pereira, were welcomed with a Guard of Honour by the Scouts.
The Chief Guest declared the Meet open after the recitation of the Sportsman's Oath by the Sports Captain
The event began with the March Past, races and relays for Junior, Sub-junior Inter and Senior Stanislites along with the NIOS students, not forgetting the Ex-students race, the Parents race, the Staff and the Peon's race. The highlight of this Meet was the Lezim Display.
Tug-of –War was a real test of strength for the Britto and the Kostka House with the Kostka House reigning victorious.
Trophies were presented to the winners of the various races.
The March Past Trophy for this year was won by Kostka House.
The Kostka Cup awarded for the WINNING HOUSE was also bagged by the Kostka House.
The All Round Sportsmen of the School Championship was awarded to Master Chinmay Chavan.
The Best Senior Athlete Championship was bagged by Master Josiah Noronha, and the Sports Scholarship was awarded to Masters Josiah Noronha and Master Marven Pereira.
Sports Day came to a Close with the handing over of the School emblem to the Sports Captain and a Vote of Thanks by the School Principal, Tr. Anna Correa.