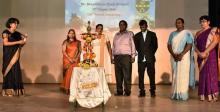 The 153rd Annual Awards Day was held on Saturday 27th August 2016
The Chief Guest was Mrs. Smita Jadhav, the mother of our current School Captain, Master Ojas Jadhav and our Guests of Honour were, Mr. & Mrs. Rony Quadras,
parents of our school S.S.C topper, Master Gerard Quadras. The Comperes for the function were, Master Raudman Irani and Master Jayden D'Mello.
The function began with the lighting of the lamp followed a brief introduction of the guests and presentation of the token of appreciation. The cultural program. brought out a superb range of pulsating performances by the students. The students of The Stanislaus International School, got an opportunity to make an appearance during grand finale song "Dare to Dream".
The Chief Guest was invited to speak and this was followed by the much awaited and most important part of the function, the presentation of the certificates. A total of 625 certificates of achievement were presented to the students
Come, Feel the Pulse