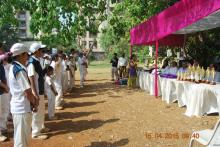 This year the 9th Lawrie's XI Interschool Cricket Tournament hosted by St. Stanislaus School since 2007 came to a close on Friday, 17th April 2015.
The Tournament was held at the Ramesh Dadkar Grounds, Matunga Central with many schools participating in the Boys U-14 and U-16 category and three girls teams playing.
Present at the Inaugural function was Fr. Lawrie Ferrao S.J. who had completed 11 years as Principal of St. Stanislaus School in whose name this Tournament is organized.
At the Closing ceremony we had amidst us as Chief Guest, Mr. Rajesh Sutar who represented Mumbai for 9 years in the Ranji Trophy and is ex-MCA Selection Committee Chairman for the U-14. U-16 & U-19 and Ranji Trophy. There were also other dignitaries like Mr. Shridhar Mandle ex-Ranjit Trophy Player of Mumbai who opened innings with the Great Sunil Gavaskar on several occasions and Mr. Prabodh Hamilton- Executive Director of Khiladi Connect.
The MCA along with Mr. Rajesh Sutar was happy to note that St. Stanislaus School has been encouraging Sports in various fields and providing a platform to budding players. He has suggested affiliation with the MCA next year in April 2016 Therefore, next year we plan to have a 40 over tournament and the event will cover 6 days. This will get many more schools to participate.
In the Girls U-16 Category, St. Joseph's Convent School, Bandra bagged the Winners Trophy and Swami Vivekanand School, Borivli (W) were Runners Up.
In the Boys U-14 category, Matunga Premier School was victorious beating Ryan International Malad.
In the Boys U-16 category, the Winners were IES Modern School, Dadar with BAK Swadhyay School , Matunga as Runners Up. Stanislaus School team ranked third.
Long live St. Stanislaus School on the cricket field.