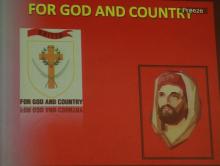 With the coming of February every Stanislite gears up to celebrate the feast of St. John de Britto the patron saint of the Britto House.
A special canteen organised by the boys of class of class V to VII on 30th January, 2018 started off the celebration.
This year we celebrated the feast on 3rd February. Our celebration began with a solemn Eucharistic Mass. Fr. Ambrose Machado was the main celebrant with Fr. Malcolm Nato as the concelebrant.
Fr. Ambrose through his homily called us to be the light to the world.
A small cultural programme was held in the school auditorium. The prayer dance and the skit based on the Britto House motto 'For God and Country' only reminded us that by serving our nation we can serve God.
Masters Aaron DeMello and Jaden Gomes were the compere for the day.
With the solemn investiture ceremony we ended our Britto House Feast Celebration.