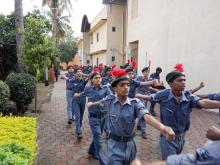 NCC training without camps is as pale as a night without stars! And if the camp is for 10 days, the excitement itself increases. We, the NCC cadets of Std.9 were given the opportunity to attend the Annual Training Camp held at Tapovan, Nashik. We were delighted to reach our campsite enveloped with fresh air and beautiful nature. Our school was allotted the 'Delta' house for the upcoming activities during the camp. From the second day, our training started. Our days began at 5 o'clock and ended at 10:30 pm. We felt great pride when we saw the officers in uniform. Saluting our seniors was a proudful moment. During the course of the camp, a number of activities were held in which our students excelled. To name a few- Football tournament, cross-country marathon, quiz competition, drill competition, best cadet selection and so on. Our nights were full of entertainment with the cultural programmes presented by every school. Our playtime was fun-filled as the Senior Division cadets also played with us. The cherry on the cake was the activity of 'range fire'! All of us were taken to the shooting range where everyone was given 5 bullets to fire. Everyone was aiming for the bull's eye! Firing with real guns was an amazing experience itself!
In short, we were trained to experience the life of a soldier and his difficulties. Unity, discipline, hard-work, co-operation of team were the necessary values taught us. And soon it was time to leave. We had the last camp fire and prize distribution. On 25th July 2019, we bid adieu to everyone and returned back with good memories.
We extend grateful thanks to our ANO Sir Rostan, Principal Tr Anna and our unit 1 MAH Air Squadron NCC for this unique and memorable camp.