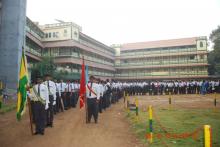 As tradition may be, the Staff and Stanislites were all geared to pray as they walked to the Mount to offer prayers and invoke blessings from Our Lady of the Mount on Friday, 6th December 2013. The feast of the Jesuit Saint, St. Francis Xavier was also celebrated on that day. To make this event more meaningful to our brethren of other faith, Stanislites were taught hymns in Hindi and Marathi.
The vow of going on a pilgrimage was undertaken as many of our School boarders were spared from plague years ago. This tradition still continues.
The main celebrant at the Eucharistic celebration was Fr. Francis deMelo who was flanked by other celebrants, Frs. Errol Fernandes, Fr. Francis Juan, Fr. Andrew Rodrigues and Fr. Jude Fernandes.
Blessings were invoked on the Std. X students who are preparing for their Board Exams that they may be blessed with good health. Not to mention, the choir added solemnity to this event.
After mass the boys were treated to a snack.
The celebrations of the Xavier House feast began with a throw ball match with the Staff versus the School Council. It was a thrilling game as the Stanislites cheered for the School Council. The band sounded a cheery note every time there was a score gained.