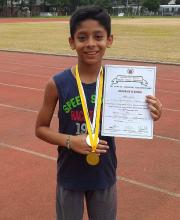 The Annual Athletics Championship organized by Bombay City District Amateur Athletic Association (BCDAAA Athletics Championships) was held on 10th and 11th August 2017 at University Sports Pavilion, Marine Lines, Mumbai. Students from our school participated privately in various events under different Age Categories.
Following were the results:
Under 10 Age Group – Standard IV
Sahil Khan – Gold Medal – 4 x 50 meters Relay
Under 12 Age Group
Standard 6
Jayden Pereira – Silver Medal – 100 meters
Calvin D'Souza – Gold Medal – 300 meters
Standard 5
Arjun Jayswal – Silver Medal – 300 meters
The Under 12 boys also won a Gold Medal in the 4 x 100 meters Relay.
Relay Team – Jayden Pereira, Cristiano Correa, Calvin D'Souza, Arjun Jayswal