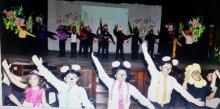 Appreciation Day at St Stanislaus High School ( Primary Section) was celebrated on 24th September 2016 at 9.30 am in the School Hall. The Manager Fr. Frazer Mascarenhas, Principal Anna Correa, HeadMistress Jennifer Pereira and Sr. Arokia graced the programme with their presence.

The programme began with a prayer and a song on unity. Fr. Frazer Mascarenhas shared a few pearls of wisdom. Prizes for the Academic year 2015-2016 were distributed in between the different items that showcased the talent of the students in music, dance and drama. The boys of Std 3 trained by the renowned Raell Padamsee put up a mime and recited a humourous poem.
The boys of Standards 3 and 4 who had participated in the interschool competition "Immaculata" put up the fairy tale Goldilocks and the Three Bears.. with a twist. The highlight of the day was a colourful musical on the Rainbow fish, penned down by the teachers and Darryl Loyola which emphasized the fact that it is only by sharing the gifts and talents that we have with others that we will truly be happy. Teacher Jennifer proposed the vote of thanks followed by the singing of the School Anthem which marked the end of the beautiful programme spotlighting the talents of the boys truly Born for Greater Things.
Tr. Priscilla Fernandes, Tr. Malaika Rodrigues, Tr. Michelle Ferrao, Tr. Cursina Valles, Tr. Lorraine Fernandes and Tr. Lorna Bhantu