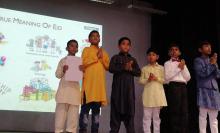 Bakri Eid is one of the most popular festivals celebrated by the Muslims all over the world, also known as 'Eid ul Adha'. In order to make our students aware of this festival, it was celebrated in our school on the 21st of August 2019. The programme started with a short assembly followed by a power point presentation and a video on sharing and loving one another, depicting values attached to the celebration.
In keeping with the celebration all the students were asked to bring healthy snacks to share in their respective classes, thus promoting the values of sharing, peace, obedience and harmony.
The boys were given book marks and sweets as tokens of remembrances of this important day.
'Harmony among our different religious traditions is essential for world peace.'
The following teachers were in charge :
Ms. Michelle Ferrao | Ms. Rosanne Cardoz | Ms. Perpetual Fernandes | Sir Arnold Lobo