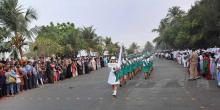 After a successful 2013 Republic Day Parade the Bandra Inter-School Republic Day (BIRD) committee decided to have a bigger and better parade in 2014, and so it came to be when ideas, principals, civic authorities, the military and meticulous planning gelled to celebrate the 65th Republic Day in Bandra. Once again 18 schools participated which included 770 student marchers and their bands, 3 army drill instructors, 54 training teachers for marching co-ordinated by Mr. Elias Corriea (St Stanislaus High School) along with 70 school cyclists trained by Mr. Faisal Thakur (Pro9 Bicycle Studio) to spread an Eco friendly message. Adding punch and grandeur to this unique parade was the elite Rapid Action Force (RAF) which marched with the children thereby raising the bar. A festive military touch to this children's parade was an Army Bagpipe Band from the Nashik Artillery Centre. Their ethereal music and spectacular marching enthralled many.
The twenty thousand plus strong crowd already assembled by 6.30am by on B.J. Road to Lands End included students, invited VIP guests, military veterans, teachers and parents from participating schools along with Bandraites, all geared up with patriotic memorabilia to celebrate this event.
The parade was presided over by the chief guest Maj. General R. R. Nimbhorkar SM**, VSM 'Chief of Staff' for Maharashtra, Gujarat & Goa Area. After inspecting the student troops he proceeded to receive the salute at the reviewing dais..... what an honour for the children who were filled with pride. The parade led by four students on horseback was flagged off at 7.00am by the Addl. Commissioner of Police Western Region Mr. Vishwas Nangre Patil IPS. His Excellency Mr. Richard Bale, Consul General of Canada was the foreign dignitary invited to witness this event. This was done in keeping with the Rajpath tradition in Delhi. The crowd had special reason to applaud once again when the Mistress of Ceremonies Ms Sanjyot Deolalikar announced to all that Maj. General Nimbhorkar was awarded the Ati Vishisht Seva Medal (AVSM) which is a military Honour bestowed to recognize "distinguished service of an exceptional order". This indeed was an honour not only for the Maj. General but for all the participants too.
The flag hoisting ceremony held on the lawns of the Central Park combined with a beautiful backdrop of the Arabian Sea was led by the Chief of Staff, the National anthem was then played by the Army Band. A sharp rifle salute by the RAF was further solemnized by maintaining a special minute of silence, observed by all to honour and remember our fallen martyrs, both in the police and the armed forces.
A recitation of the Pledge in Hindi was done by Ms Priya Dutt the local MP who ended with an appreciation for the Indian Armed Forces. This was followed by a short but inspirational speech by the Chief Guest who even used Marathi to reach out to all the students. The marchers then settled down to watch a few cultural heritage performances done by the students which included the Malkhamb (pole gymnastics) , Lezim and Bharat Natayam dances. The Army band gave a short but brilliant display of their musical skills on stage. Finally a comprehensive vote of thanks by Ms Saba Patel principal of Anjuman-i-islam ended by thanking Fr Magi Murzello ( St Andrews High School) Fr Jude Fernandes ( St Stanislaus High School) and Mr. Peter deSouza (Convener) as chief organizers of this event.
Following this, the students once again marched towards the Taj Lands End and were treated to a grand and sumptuous Republic Day breakfast by the Taj Lands End, whose management and staff made the marchers feel really special, a truly befitting reward for their wonderful March-past display and intense practice for the last four weeks.
The 3 services had educational stalls set up on the Bandstand promenade which included the Advanced Air Defence's (AAD) L-70 Anti Aircraft Gun & Radar along with the Navy's Mobile Missile Coastal Battery (MMCB) launcher & Marine Commando equipment from INS TRATA. Naval personnel even demonstrated a hand held rocket launcher among various other displays. School students had the opportunity of experiencing military hardware and also a chance to interact with the services personnel thereby creating an awareness of our armed Forces.
This celebration part of concluded safely and successfully with help and smooth interaction between so many organizations which is an example of unity and co-operation in metropolitan Mumbai.
JAI HIND