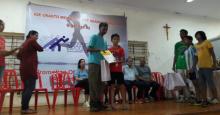 The Joe Crasto Memorial Off-Season Beach Race organized by United Athletics Sports Club (Affiliated to the Mumbai Suburban District Amateur Athletic Association) held on 18th September 2016 at Juhu Beach.
Students from our school participated in the various age categories Students participated in the 1 km, 2 kms and 3 kms race in the Under-10, Under-12 and Under-14 category respectively.
All our participants completed the race successfully. These races were a testimony of their strength and endurance.
The 1st 10 boys from each of the races were awarded prizes and certificates.
Following were the notable performers in the various age groups.
1 km Race - Under 10 Age group
Standard IV - Arjun Jayswal - 2nd Place.
Standard III - Vihaan Sylva – 4th Place.
Standard IV – Divesh Kudekar - 9th Place.
3 kms Race - Under 14 Age group
Standard VIII - Noah D'mello – 9th Place.