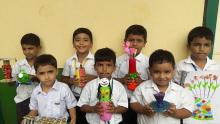 A Best Out Of Waste competition was held on Saturday 15th July for the boys of classes I-IV.
The boys were given a theme for the article
The themes were as follows:
Std I –Any Useful or Decorative Articles
Std II- Birds and Animals (any useful articles)
StdIII- Nature (any useful article)
Std IV- Decorations (wall hangings/photo frames)
The teachers in-charge of each standard chose the five best articles from each division. The judge,Teacher Princelia chose two winners from each class. The students of standard I and II were give activity books and a box of crayons as prizes. The students of standard III and IV were given story books. The names of the winners were announced during the morning assembly
It was amazing to see how scrap could be transformed into such useful and beautiful articles.The creativity and artistic streak of the children were observed.
Don't Throw It Away It Can Be Used In Another Way
The teachers in-charge:
Chitra Thadani, Lorna Bhantu, Malaika Rodrigues, Michelle Ferrao and Cordelia Lewis.