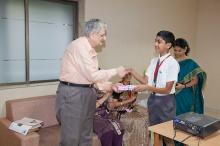 The Bai Ratanbai Gharda Memorial Library in Bandra hosted a book review competition on the occasion of 'Pustakalaya Diwas' on 12th August 2011 in St. Stanislaus High School.
The participants were given 10 Fiction books. Titles being Percy Jackson series and The House of Night series - like Marked, Betrayed, Chosen to name a few. Participation from the school children was good and encouraging. Ten best entries were selected and out of these the best three were awarded prizes comprising of books and gift coupons at the hands of Dr. Keki Gharda. The remaining entries received consolation prizes. All ten have been offered free membership of the library for a period of one year. All this was coordinated by Ms. Carol Saldanha.
The three best entries were Mast. Keanne D'Souza of VII A, Mast. Jonathan Miranda of Std. X and Mast. Aryaman Telang of Std. VII A. A Seminar on 'Encouragement of Reading in the Internet Era' was organized on 27th August 2011 following the Prize distribution.
Congratulations Stanislites continue to make your School proud.