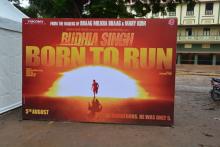 National award winning actor Manoj Bajpayee ensured that the anthem launch of his forthcoming awe-inspiring biopic, Budhia Singh – Born To Run was one to remember! This is an inspirational true story of the world's youngest marathon runner Budhia Singh – Born To Run. The movie is the celebration of an ordinary boy who rose from the ashes like the phoenix and made his country proud." It is based on the relationship between Budhia (Mayur Patole) and his judo coach, Biranchi Das, played by Manoj Bajpayee. Das rescued the little boy from one of Bhubaneswar's most notorious slums and helped him achieve incredible heights.
Taking onlookers and the gathered media by surprise, the versatile actor arrived at the venue, St Stanislaus School, Bandra, running along with Master Mayur and took couple of rounds of the basketball court.
After the panel discussion, the soul-stirring anthem of Budhia Singh Born To Run was launched amidst a packed house of school children and the media. The students were very happy to get wrist bands and t-shirts from Viacom18 Motion Pictures.