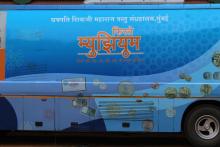 Every happy memory created for a child is another treasure of a lifetime.
- Donna Marie.
Our aim this year for Children's day was to ensure a treasure trove of joy, laughter and fun for our students. As the feast of our school patron saint, St. Stanislaus Kostka (13th November) and Children's Day (14th November) coincided with the Diwali vacations; the festivities were delayed but combined and celebrated in a grand manner.
It all began with a surprise arranged for the students from the Chhatrapati Shivaji Maharaj Vastu Sangrahalaya (formerly known as the Prince of Wales museum). The museum paid a visit to our school on 26th and 27th November 2018 through their Museum on Wheels initiative – a bus with travelling exhibitions on different themes. The students were fascinated by the exhibition within the bus and enlightened on the topic "History of Indian Money" with an audio – visual presentation, the dioramas, coins, coin replicas, banking documents and other artefacts related to currency from the 7th-6th century BC. They also had great fun while getting hands-on experience in "minting coins" which they could keep as souvenirs of this special visit.
On 30th November 2018, the feast of St. Stanislaus Kostka and Children's Day was celebrated beginning with a mass at 9.15am in St. Peter's Church followed by a tasty snack and drink arranged for the students. Entertainment for the day was set up on the school grounds and began with a fashion show staged by the teachers followed by a group dance competition judged by our very own ex-Stanislites Kunal Jessani and Melroy Pereira who pursued their passion for dance and made it a successful career choice. If the audience reaction was anything to go by, the programme was a super hit! The boys had the option of indulging in their favourite treats like chaat, Chinese bhel and ice lollies by purchasing coupons. Our ex-Stanislite Kunal got the boys rocking with his Zumba dance moves as the DJ continued playing popular chartbusters. The school's German exchange students and their teachers were also present and introduced themselves to the boys. Principal Anna expressed her appreciation for the two committees and the P.T.A who had organised this fun-filled and memorable day for the children. The boys continued to enjoy themselves till the celebration ended at 1pm and then headed home with smiles on their faces and precious memories of a day dedicated to their enjoyment.
They say, "A child has a special way of adding joy to every day". This vibrant celebration was our way of appreciating and reciprocating the joy our students bring to our lives daily.