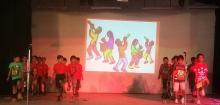 Christmas is a time for celebration, a time for giving, loving, sharing and spreading happiness, peace, joy and good cheer. That is exactly what the boys of Std IV presented through their children's hour on 21st December, 2016.
The programme began with a Christmas prayer followed by a dance, wherein the boys expressed their love in the form of prayer and music in their lives. The story of birth of Jesus was putforth in the form of Tableau. Everyone loves to decorate a Christmas tree with pretty buntings. These buntings are Christmas symbols which are of great significance to the life of Jesus Christ. This act was presented by showing each symbol and telling the meaning of it. A few of our Stanislites who were trained by Tr. Karen for the Inter School Carol Singing Competition performed for our children's hour. Another group of boys showcased their talents by playing different musical instruments like the keyboard, drums, violin and the guitar and were joined by a group of boys singing Christmas carols wherein they wished everyone Merry Christmas and a Happy New Year. Teacher Jennifer then addressed the gathering.
Thus, the fun-filled morning came to an end by giving the message of Christmas.
Tr. Lorraine Fernandes, Tr. Lorna Bhantu, Tr. Lalita Nirmal, Mr. Arnold Lobo