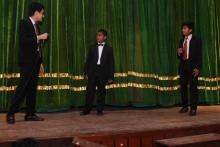 The Grinch had this epiphany in the famous children's story written by Dr Seuss in 1957 and the boys at St. Stanislaus High School experienced the same on 22nd December 2018 at the Christmas programme for the secondary section. The theme for the programme was 'Jesus – The perfect gift.'
It began with the exuberant singing of Christmas carols that brought alive the joy and wonder of Christ's birth. Music, they say, is a powerful form of worship and the school choir helped the students to pay homage to the Christ child with their exultant voices and glorious music.
The Christmas skit this year involved some time travel as the students were taken back to the very first Christmas. There, they were charmed on encountering the holy family and realised that the first and most perfect gift, given to us by God was, Jesus Christ. The boys were presented with the astonishing but viable idea of 'being' the gift this Christmas season rather than 'buying' one.
The programme was filled with unexpected and unforeseen events as the Christmas decoration came alive and began dancing! The adorable reindeers, angels, snowmen and Santa Clauses enchanted the audience of boys and teachers alike. The students were further delighted when Principal Anna gave out prizes to the best dressed boys in the audience. More awards followed for the Stan Art Project poster competition winners whose posters were chosen for the school wall. The teachers weren't excluded either! The four winners of the Inter-school essay writing competition for teachers were awarded certificates and cheered wholeheartedly by the students. Fr. Malcolm reinforced and emphasised the true meaning of Christmas in his speech to the boys. The students left with sweets and hearts filled with the magic of Christmas. It's rightly said, that it is Christmas in the heart that puts Christmas in the air and on 22nd December 2018, Christmas was definitely in the air at St. Stanislaus high School.
'What if Christmas, he thought, doesn't come from a store. What if Christmas, perhaps, means a little bit more.'

Dr. Seuss. (How the Grinch Stole Christmas!)