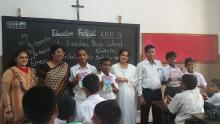 As part of the Education Festival, students of Stds V to VIII were presented with textbooks in all subjects.
We were privileged to have Mrs. Ranjana Rao, Deputy Education Inspector of the H-Ward visit the school on its reopening and present the textbooks to our Stanislites. Mrs. Rao was accompanied to the classrooms by our newly appointed Principal, Mrs. Anna Correa and the Vice Principal Fr. Andrew Rodrigues S.J. We appreciate this kind gesture.
What better way to begin a new Academic Year 2015-16!