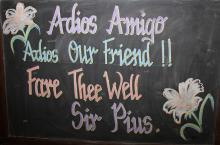 The Stanislaus Parivar bid farewell to Mr Pius Almeida who for 33 years was an integral part of the Secondary Office.
The programme started with a prayer service followed by performances by the students and teachers.
A PowerPoint presentation captured the golden moments of Master Pius's life.
The teachers put together a small skit and dances based on Pius' years at St. Stanislaus.
The PTA, Staff and students stole his heart through their cards and good wishes.
A farewell speech was delivered by Principal Anna Correa.