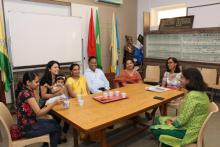 Come December and there is a charged atmosphere at school. Why you may ask! Christmas is approaching! All Stanislites are busy preparing their hearts and using their creative talents to decorate Christmas ornaments to be displayed both in the class and along the school corridors. The crib, too, is set up to welcome Baby Jesus.
As this is the season of giving, our boys donate generously, articles like pulses, Complan, Bournvita, and mats etc. for our Twin Mission School.
The Christmas tableau and children's celebration was on the 22nd of December. It began with a meaningful prayer service, followed by an adaptation of Leo Tolstoy's 'The old Shoemaster', Papa Panov's special Christmas, on how to make Christmas more meaningful and 'CHRIST' filled by reaching out to the poor, unfortunate and those excluded from society. This was followed by a Christmas themed Fancy Dress Competition for the boys of Std. 5.6 & 7.
Keeping in mind the theme of giving, our school management and the PTA gave the boys a Christmas gift; a lovely red pouch and wonderful memories to cherish.
Mr Simon Chisti, our Lab Assistant for the past 28 years was also given a fond farewell .