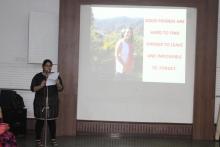 We bid farewell to our dear teacher Swati Dabre who served our school for 22 years She is a hardworking and a dedicated teacher who is ever willing to help anyone who approaches her.
On 1st August 20, 2018, a special intercom assembly, was organised by the students and teachers for Tr Swati. Later in the afternoon the staff expressed their love and wishes through a small program followed by lunch hosted by Tr Swati.
We wish Tr Swati the very best in her future endeavours.