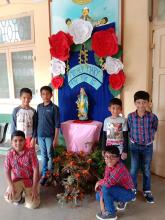 In keeping with the year of Harmony, the students of the Primary Section celebrated Mother Mary's Birthday on Saturday, 7th September 2019.
The teachers prepared a prayer service. The prayer service included videos from the life of Mother Mary that depicted the values she possessed such as obedience, humility, selflessness, service, empathy and Mary as our intercessor. Each video was followed by a prayer. There were Marian hymns played too. The prayer service ended with a video showing how people of different faiths come to visit Mother Mary at the Mount in Bandra.
The boys got into a party mood as they sang the birthday song to Mother Mary. They were delighted as the celebration continued in class where they were served cake, snacks and a soft drink. The boys left school happy, having enjoyed and understood the meaning of the celebration of this beautiful feast.
Teachers in charge:
Mrs. Lorna Bhantu
Miss. Cursina Valles
Mrs. Karen Martin
Mrs. Lufthancia Miranda