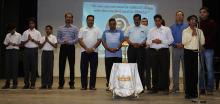 The feast of St Francis Xavier was celebrated in school on Thursday, 3rd December 2016. The programme commenced with a prayer service, a short movie and skit based on the life of St.Francis Xavier.
After the programme in school, and as per tradition, Stanislites walked their way to Mount Mary's Basilica for a Eucharistic celebration.
This pilgrimage is held annually to follow the vow the Bandraites had taken years ago, when Bandra was weighed down by plague.
Fr. Ambrose s.j. was the Main Celebrant at the Mass. Std X students received a special blessing for good health and strength to face life's challenges as they are on the threshold of life.
At the end of the Mass the students were treated to a snack.