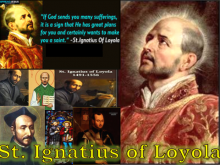 'Ad Majoreim Dei Gloriam' The Feast of St. Ignatius of Loyola is a day of great joy and celebration for the Jesuits all over the world. As a Jesuit school, we too, celebrate this feast every year with great pomp.
Our school, this year, took part in a Global Video Conference, held a bookmark competition, a special canteen, and of course, the feast. The global video conference was with five other Jesuit schools, around the world. The students discussed on the idea of 'What one would ask St. Ignatius of Loyola if he were alive today.' The celebrations continued with a canteen organized by our Std. 9 teachers and students. On that same day, our school council organized an exciting football match between the school staff and the student council. The feast of St. Ignatius held everyone's breath high. The day began with the celebration of the Holy Eucharist.
The program in the auditorium started with an innovative skit in the format of 'Kaun Banega Crorepati' with a godly twist. It was called 'Who wants to make a God Decision' hosted by St. Ignatius himself. It displayed the values of the church. The School Band who call themselves 'The Rhythmic Gang' performed a rock and country medley. The program ended with the distribution of the non-academic prizes and a vote of thanks by our Principal Tr. Anna Correa. It was a day enjoyed by everyone and the students left with a valuable message to take home.