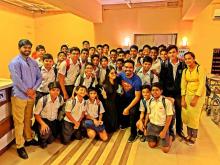 The Film and Media (F.M.) club boys were super excited when they heard about the trip to SJ studios for the shooting of a television serial. 30 boys along with 2 teachers reached SJ Studios and into the world of movies and serials. Mr Mushtaq Sheikh was the person to show us around the studio.He is a famous script – writer who has written popular films like Om Shanti Om, Ra.one and Billu barber.
Mr.Mushtaq Sheikh in his small speech gave them a basic understanding of how shooting is done. They were all sitting in a room which looked like a living room with beautiful paintings and artefacts. Mushtaq sir explained to them how each room is a part of the Television show "Yeh Hain Mohabattain" which is a Balaji production.
He gave them basic information about how many workers work on the show and how they create this entertaining world each day without fail. The group was then taken to the shooting set. Live shooting was taking place and there was a buzz in the air and a general rush too. The technicians were running around. There were huge lights placed every where. There were make up artistes and actors. And finally there was the director sitting on a chair shouting Lights! Camera! Action!
There was chaos around but the moment the director said the three words there was pin drop silence. Once the camera rolled the boys saw veteran actress Sudha Chandran act and say her dialogues. One day at the shooting made the boys realise the kind of hard work, dedication and discipline that these talented people put so that the public can get entertained. The boys and teachers took pictures with the actors which would be treasured for a lifetime.
This visit was an eye-opener as the students realised that making movies and making serials is an art form. It's not only difficult but at the same time there are many people who put their minds, hard work and dedication to bring this world of entertainment alive.