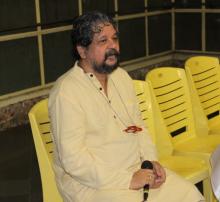 The Film Club is an endeavour that strives to transform the lives of children within the space of the school system. It welcomes children to experience the magic of cinema through film watching, live shooting, hands on camera experience, visits to the film industry, Celeb talk and a lot more. Keeping all this in mind, the STAN FILM CLUB invited Filmmaker, Amole Gupte, the man behind critically acclaimed children-centric films 'Taare Zameen Par' and 'Stanley Ka Dabba' on the 22nd of August, 2016 to St. Stanislaus to share his expertise with the Film Club students from Stds. VII to IX.
Mr. Amole's has over 15 years experience of working with children as well as his career in films. He has wonderful insights on both the worlds, which he shared with the students.. According to him, cinema is an exciting new medium and art form for children to explore. All they need is a mobile phone camera and a computer.
In this session, he showed two short films - 'Aansoo bane Moti' (made by underprivileged children) and 'Tahaan'( directed by his student Mr. Ashish Gaikwad (an Ex-Stanislite), in order to throw light on the possibilities open to children interested in this field. He also discussed the relationship children share with cinema, and how it is different to ours. With their stories and wonder and imagination, children could become absolutely fabulous filmmakers in today's digital age.
The boys enthusiastically took part in a healthy discussion with Mr. Amole Gupte
Principal Mrs. Anna Correa expressed her gratitude by giving Mr. Gupte a token of appreciation.