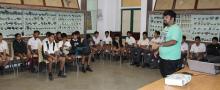 On the 20th January, 2017 the students of the film club assembled in the museum to witness a short seminar on "Guidance to the right path of Film direction, Acting and Advertising." by Mr. Errol Marks, an Ex-Stanislite.
Mr. Errol Marks began his acting career whilst in school. His desire to be an actor prodded him to get a break in his college play. His persistence got the attention of an Assistant Director who gave him his first advertisement for Crabtree switches. As of December 2016 he has been a part of close to two hundred commercials like Reliance, Havells, Dish TV, Nokia , Star TV, MTV and many more.
Mr. Errol walked the boys through the basics of advertisement and also showed them some of his works, including his first film. He spoke about the different types of challenges faced while ascending the ladder and reaching this present position. He then talked about different jobs available on and off the set, the different salaries, popularities and difficulties.
The seminar concluded with a speech by Principal Anna and Mr. Errol was given a token of appreciation.