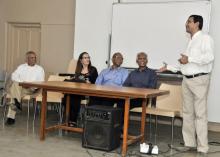 St Stanislaus School experienced a historical event with some Stanislites receiving the First JCP Awards certificates in their Convocation garb.
Chief Guest, Fr. Paul Fernandes S.J., Vice Chancellor of the new Xavier University, Odisha was present on Friday, 9th January 2015, to award the Jesuit Certificate Programme (JCP) Awards to the first batch of 2014 students. These students were recipients of this award on completion of the 4 Year programme with 56 credits.
The JCP is a holistic, enrichment programme that enables a transformational education based on the Social, Intellectual, Personal and Spiritual (SIPS) level. This programme entails a 2 fold aim
education for livelihood immediately after Std.X
education for better life, well equipped for Higher Education.
We had around 123 Stanislites receive their certificates at this ceremony. Students of Holy Family School, Chakala, Andheri (E) were also fortunate to receive their certificates at the hands of the Vice Chancellor. This School too conducted the 4 year JCP programme.
There was a short cultural programme with a PowerPoint presentation highlighting the activities conducted during the 4 year programme.
Prior to the Awards ceremony Fr. Paul Fernandes S.J. interacted with the Staff members of the School focusing on measures to raise the standard of the present JCP curricula.
Later he met up with Principals of 20 neighbouring schools to focus on the 'Recent trends in Education and How Classrooms can prepare Students for Higher Education'.
The event concluded with the School Anthem being sung with gusto and fellowship for the Awardees and their parents at the Backyard lawns