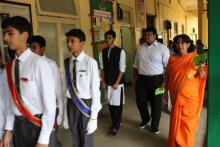 15th August 2016, marked 70 years of Independence The Staff and Students of St Stanislaus High School commenced the celebrations with the hoisting of the flag by our Chief Guests, Ex-Stanislites, Master Srinivas Venkatesh and Master Brenden Don Barretto, both doctors in the making, at 7.30.a.m.
The National Anthem was sung with great fervor accompanied by the School Band.
The Chief Guests, then proceeded to the hall for a short program which started with the lighting of lamp, asking God to bless our motherland. A short skit by Tr. Cindrella Dmello, showed the boys, through song and dance how to be responsible and dutiful citizens. A speech on Independent India by Master Amir Zakaria, emphasized the sacrifices made by our freedom fighters. Kickboxing, another form of martial arts was also demonstrated.
The Std X toppers, who scored above 90% were also felicitated. The toppers shared the secret of their success with our current Std.X boys.
Our Chief Guests, inspired the Stanislites with speeches that drew their attention to the many opportunities the school had to offer..
The Principal, Tr. Anna ended with a vote of thanks and exhorted the boys to be proud of their country and its rich and varied heritage.