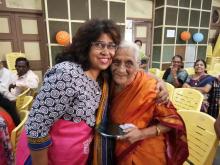 It was a beautiful morning when the boys of Std. I celebrated Grandparents' Day on 18th February,2017
The function began with a prayer dance followed by other special performances put up by the kids. All the grandparents recalled their childhood days as they watched their little grandsons perform.
Our headmistress, Tr. Jennifer Pereira gave the vote of thanks. She also asked the grandparents to share their experiences of their time spent with their grandchildren.
The grandparents enjoyed a game of housie. Spot prizes were also given. They were served coffee, sandwiches and wafers. At the end of the programme the grandparents were given a small token in remembrance of the occasion.
Std I: Raynah Lemos, Lufthancia Miranda, Mary Almeida, Perpetual Fernandes