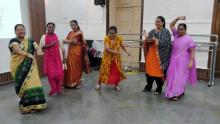 "Grandparents are cherished members of our family. They bring gifts of wisdom,experience and love."
Grandparents' Day was celebrated on the 23rd of February,2019 , by the boys and teachers of Class -1. Around 90 grandparents attended the celebration in the Arrupe Hall.
The programme began at 9:30a.m. with a prayer service and a prayer dance. After invoking God's presence ,the students were ready to entertain the grandparents .The little ones welcomed the grandparents in song. The 6 year olds then kept the grandparents feet tapping as they performed a mime beat on old popular English and Hindi songs. The boys then danced to songs depicting different regional styles ( Punjabi, Guajarati, Goan and Koli). Finally a group of boys sang a song specially dedicated to the grandparents.This was followed by a vote of thanks by a grandparent and Teacher Jennifer.
After the entertainment programme, the grandparents were served refreshments .They then enjoyed a game of housie and were given a few spot prizes too. The young hearts then danced to some songs and left happy with a take away
Teachers Incharge
Mrs. Lorna Bhantu | Mrs. Lufthancia Miranda | Mrs. Priscilla Fernandes | Mrs. Perpetual Pereira