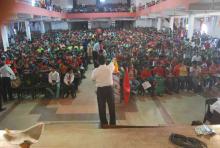 The Christmas celebration at School began in the first week of December with the Stanislites preparing the symbols of Christmas in their Craft classes. The symbols like the Star, Christmas Tree, Candle were later put on display around the School. The crib was placed in the Assembly shed for public viewing.
The Stanislites put the theme of Christmas –Caring and sharing into practice by collecting stationery articles, toiletries and edibles for the needy students of our twin school –St. Xavier's in Manmad.
The Staff had the Secret Santa exchange of gifts among themselves.
On Monday, 22nd December, the School Council organized the School assembly on the grounds and the Stanislites returned to their respective classes to give their attendance and were treated to a gift from the PTA. They were then taken to the School Hall to view the Christmas tableau enacted by the NIOS students. The Choir sang melodiously. Budding violinists of the School showcased their talent by playing Christmas Carols at the end of the play. Spot prizes for every Standard entertained the gathering. At this event, some Stanislites received 'Certificates of Achievement ' for the various competitions they had participated in. The Stanislites were later treated to snacks at the end of the programme and the Staff gathered in the Assembly for fellowship. They too received a token of love from the Management with a personalized message on it.