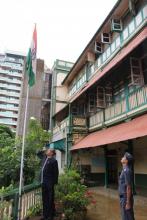 On 15th August, 2018 St Stanislaus High School celebrated Independence Day with great patriotism. The celebration began with the flag hoisting by our Principal, Tr. Anna, Fr. Malcolm and Sr. Arockia and our chief guest for this day, Peter DeSouza. The boys then started moving towards to School Hall where the celebration began.
A very inspiring speech was given by Vansh Mandot from STD 8, highlighted the efforts of our freedom fighters who contributed to bringing freedom to our nation. Next, the STD 6 boys sang a Hindi patriotic song which was followed by a solo song, 'Rang De Basanti' sung by Jay Shinde.
A thought provoking skit was then enacted by the students of STD 8 on the 'Life of Soldiers'.