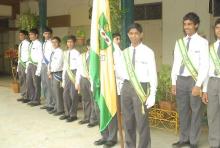 There is no greater celebration than the celebration of freedom and so on 15th August 2011, the entire nation was again ready to celebrate the 65th year of India's Independence.
Keeping this same spirit of patriotism aflame and remembering with pride our freedom fighters who endured all struggles to attain freedom for us, the Stanislites geared themselves to pledge their respect and love for their country India.
The programme began with great fervor. Our National flag was hoisted by our esteemed Chief Guest Mr. Vincent Mathias. The students and the parents who had gathered there, showed respect towards the nation by saluting the National Flag and singing the National Anthem.
The boys then assembled in the hall for a cultural programme.
The feeling of patriotism was expressed through a speech by Master Shane D'Souza. He gave an inspiring speech in appreciation of the country. He highlighted the value of respect, that each one of us should show towards our Motherland.
Std. 7 boys reminded us of our soldiers who sacrificed their lives for the country through the song 'Nanha Munna Rahi Hun'. Master Rohan Shah's song on 'Saheed' by Ramdahri Dinkar emphasized the selfless service rendered by our soldiers at the borders.
Std. 8 boys through their play 'Jaago Bharat Wasi' made us aware of the evils in our Society today due to terrorism and corruption.
This performance left everyone spellbound and made us realize that if we want to change Society, we need to be the 'change'.
18 Std. X students who topped the SSC Board Exam, and made the School proud were felicitated, as were also the NCC and RSP winners.
The celebration came to an end with a Vote of Thanks by our Supervisor Tr. Anna Correa followed by the patriotic slogan 'Bharat Mata ki Jai'.