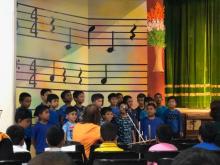 The 73rd Independence Day of our country was celebrated by the Primary section on the 14th of August 2019 in the school hall. The boys of Std II were instrumental in presenting a lovely prayer service and invoked the Almighty's blessings for different intentions for our country. The prayer dance too put everyone in a solemn mood.
The feeling of patriotism was further enkindled through a rendition of a medley of patriotic songs, a brief explanation accompanied the display of national symbols and a beautiful dance to lively patriotic songs.
The little boys looked glorious dressed in their colourful costumes and gave their best performance. The program ended with the singing of the National Anthem.
Trs. Cursina Valles, Mary Almeida, Rosanne Cardoz, Priscilla Fernandes.