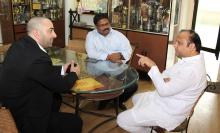 The finals of the Inter-House Debate between the Loyola house and the Britto house, was held on 16th December 2016.
The motion debated on was 'Inventions destroy Mankind.'
A panel of esteemed judges comprising of Mr. Prince Paul Shihn and Mr. Sunil Puri both from Bollywood industry and Mr. Asif Bhamla a politician were given the important task of judging the debate.
The Britto House team were the winners.