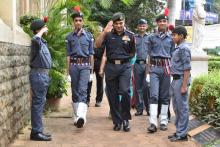 14th August 2017, the eve of our Independence day, saw 22 schools participate in an Inter-Religious celebration at St. Stanislaus High School.
The morning started off with an exciting display of a Bunker Busting Drill by NCC cadets, trained by Col KS Kondal, Commanding Officer, 1 Mah BN NCC.
The Chief Guest Maj. Gen. Christopher Fernandes, along with dignitaries from the Armed forces were warmly welcomed by Comperes Ms. Cordelia Lewis and Master Amir Zakaria in the School Hall.
The cultural programme started off with a one minute silence in honour of our fallen soldiers, and the lighting of the lamp.
This was followed by a brief explanation of the uniform worn by the officers of the Armed Forces by Col. Kondal, a prayer for unity and messages by our great leaders and freedom fighters by the students of Std.IV, dances were performed by the boys and a scintillating Indian Dance by the St. Joseph's Convent girls, the Inter-School Band competition winners performed a couple of patriotic songs which resounded through the School Auditorium.
The highlight of the morning was a performance by the 7th Sikh Regiment pipe band.
Maj Gen Christopher Fernandes, in his speech invited the girls too to join the armed forces. He also told the boys that the Pipe Band led the Army into battle and were always on the Front. His message to the students was Patriotism and Secularism. Whatever you do, work together for the Country. In which ever walk of life remain patriots of this great country of ours.
Principal Anna concluded the programme with a vote of thanks to the BIRD committee and the staff and students of all the schools who made the programme a rousing success.