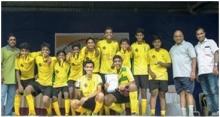 St. Stanislaus, Bandra emerge champions
Wednesday, August 08, 2018
Mumbai: St. Stanislaus, Bandra staved off a spirited fighting display from Holy Family, Andheri and clinched a deserving 2-1 margin of victory in the final of the Inter-School Football Tournament for Jesuit Schools, organized by the Holy Family High School and Junior College as part of the celebration for the School's Platinum Jubilee and played at the Holy Family ground.

In a keenly contested final, St. Stanislaus scored through Soham Yelve and Joy D'Sa, while hosts Holy Family managed to pull one back through Sanford Dias.

Earlier, in the semi-finals, Stanislaus overcame a strong challenge from St. Mary's SSC, Mazagon to snatch a tight 1-0 win. Striker Varad Parab netted the crucial winning goal to take the Bandra school to the finals.

In the other semi-final, Holy Family blanked St. Xavier's, Fort by a comfortable 2-0 margin. Opporttunistic goal-scorer Rohan Chikale struck both the goals to complete Holy Family's win.

Rev. Fr. Vincent Vaz SJ, Manager of Holy Family School, was the Chief Guest and presented the Champions and Runners-up Trophies to St. Stanislaus and Holy Family respectively and also gave away the individual awards.

Results – Finals: St. Stanislaus, Bandra 2 (Soham Yelve 1, Joy D'Sa 1) beat Holy Family, Andheri 1 (Sanford Dias - 1).

Semi-finals: St. Stanislaus, Bandra 1 (Varad Parab1) beat St. Mary's SSC, Mazagon 0. Holy Family, Andheri 2 (Rohan Chikale - 2) beat St. Xavier's, Fort 0.