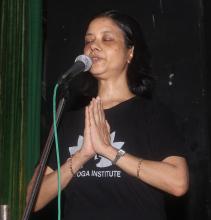 International Day of Yoga, is celebrated annually on 21 June, since its inception in 2015.
An international day for yoga was declared unanimously by the United Nations General Assembly (UNGA) on 11 December 2014.
Yoga is a physical, mental and spiritual practice attributed mostly to India.
St. Stanislaus High School celebrated International Day of Yoga in the School Auditorium by demonstrating different asanas to the students, under the guidance of Ms. Devyani Ghosh, Yoga Instructor.
Yoga is the journey of the self, through the self to the self".

--- Bhagavad Gita