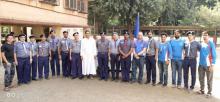 The Jesuit Interschool Scout Sammelan (Camporee) was held on 16th – 17th March 2019 at St.Mary's High School S.S.C (Mazagaon).
It was organized by Bro. Conrad Fonseca S.J and the Scout Masters/Rovers of 41st East Mumbai Troop as this year marks the sesquicentennial anniversary of St. Xavier's High School, Fort.
Altogether five Jesuit schools including St. Stanislaus High School took part. This indeed was a great opportunity for all Scout boys to meet their peers, interact with them and take part in various Scouting activities.
The Scout boys pitched their own tents, made multi-purpose gadgets and enjoyed the campfire. At all six bases, we learnt History of Scouting, first-aid, reading of magnetic compass, estimation, knots, Moorse code signs, etc. At the end of the camp certificates were issued to all participants by former Principal of St. Stanislaus High School Rev. Fr. Jude Fernandes S.J current the Principal of St. Mary's High School (S.S.C), Mazagaon.
We thank our Scout Master Elias Correa and Bro. Conrad Fonseca for accompanying us and special thanks to our Principal Tr. Anna Correa and the Jesuit Management for giving us this opportunity and for their constant support and guidance. It was indeed a learning experience for all of us to interact and learn more about scouting.​