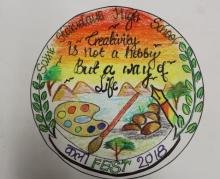 On February 24th, 2018 St Stanislaus High School had the unique privilege of hosting "KalaaFest 2018" an art and craft exhibition showcasing the artistic talents of our talents.
Special efforts were made by our students to complete the challenging tasks (art and craft) works which were awesome and appreciated by all the guests, Parents, Teachers and even the judges. For Art some special assignments like Pointillism (Stippling), Canvas Painting, glass paintings etc. were taken whereas for Craft – Best out of waste, lovely working games from cardboard boxes, beautiful dream catchers, balloon lanterns were prepared.
The Art and Craft works were judged by Mr. Uday Dawal who is a successful artist and owns a studio in Dadar. He is well known for his excellent Rangoli Art and has won many awards till date. Our second judge was Miss. Raksha Parikh who is completing her Masters in Sir JJ School of Art's.
The exhibition was a resounding success thanks to the efforts of our PTA and our art and craft teachers Princelia and Gloria
Tr. Princelia Pereira