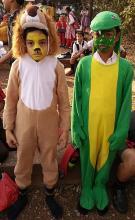 Children are the Future of Tomorrow. Keeping this in mind, Bittu Sahgal started "Kids for tigers" in 2000, to create awareness among students, to safeguard the natural habitat of Tigers and protect them.
Kids for Tigers conducts plays, competitions, lectures and organizes trips for school children to the neighboring forests and wildlife sanctuaries to introduce them to a culture of biodiversity and habitat.
Every year the "Kids for tiger" organization conducts the TIGER festival at Maharashtra Nature Park, Mahim. This year the fest was held on 3rd February 2017
St. Stanislaus High School has a vibrant Nature club, which conducts different activities and training sessions for their students.
At the TIGER fest, the Nature Club students of St. Stanislaus High School participated in different events like face painting, Rangoli, Poster making, Skit, Band, and Best out of Waste, with great enthusiasm and fervor.
The school won the first prize for the skit competition. The event was a great success and the students got the message loud and clear to "Save our Planet".