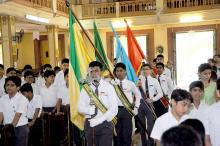 The feast of St. Stanislaus Kostka, patron saint of our school and the Kostka House was celebrated on 18th Nov 2016, with Mass. Fr. Frazer Mascarenhas s.j., Manager, was the chief celebrant.
Std 5A, 6C and 7A won the chart-making competition based on life of St. Stanislaus Kostka.

Children's day celebrations, held on the 19th November 2016, commenced in the School Hall with a prayer service and the lighting of the lamp followed by performances by the special students of AAWHAAN PALAK SANGHA.
The Teachers enacted and sang the song "Try a little kindness" with a message to our boys.
In the inter-class dance competition, Std 9th won the first prize. The boys enjoyed the entertainment programme, quiz and won spot prizes.

The celebrations concluded with a throw ball match between the staff and the Student Council. The Staff won the match.