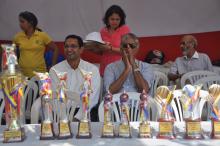 Cricket fever gripped St.Stanislaus as the Lawrie's XI Inter-school Cricket Tournament was held for the 8th successive year between 15th and 17TH April 2014.
The tournament organized by St. Stanislaus High School was held at Ramesh Dadkar Grounds, Matunga Central.
The Chief Guest for the inaugural ceremony was our former Principal Fr. Lawrie Ferrao SJ. His words of wisdom and encouragement to the young cricketers from various participating schools was received with rapt attention.
At the Closing ceremony the players were fortunate to have Mr. Shridhar Mandle ex-Ranjit Trophy Player of Mumbai who has opened innings with the Great Sunil Gavaskar on several occasions and the Chairman of the Selection Committee Mumbai U-19 and Ms. Sulakshana Naik-Wicket Keeper of India pep their spirits and encourage them to do better next year.
The winners in the girls U-16 tournament was St. Joseph's Convent School, Bandra and the runners up was Swami Vivekanand International School, Borivli (W).
In the Boys U-14 category, the winners were Ryan International High School Malad (W) who beat Amulakh Amichand B. V. Vidyalay.
The U-16 Boys' winners trophy was bagged by IES Modern English High School, Dadar (W) and the runners up was BAK Swadhy Bhavan School, Matunga.
We thank our parents for their generous support and their presence on all three days of theTournament.