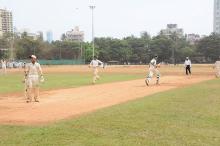 Our School hosted the 'LAWRIE'S XI INTERSCHOOL CRICKET TOURNAMENT' from Monday, 16th April to Wednesday, 18th April 2012, at Shivaji Park, Dadar. This tournament started since the year 2007. Ever since its inception, we have met with great success. This year we had 8 teams each participating in the U-14 and U-16 category.
It is with the participation of our Stanislites, the support of our Principal Fr. Jude Fernandes and the parents, that this tournament is getting richer, picking up in momentum and is creating history.
This tournament gives our budding sportsmen an occasion to reveal their skills in this field, bringing together cricket fans from many schools and enjoying the beauty of sports.
This year St. Xavier's School, Fort were the winners of the U-14 with Amulakh Amichand Bhimji Vidhlakshi Vidyalay as the Ruuners Up.
Our school bagged the Winner's trophy in the U-16 category with St. Xavier's School, Fort as their Runners Up.
We would like to keep up this trend and maintain a standard, as we play host in organizing this tournament.