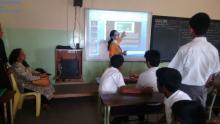 On Saturday, the 17th December, 2017, a lecture was initiated by the Principal of St. Stanislaus school, Madam Anna Correa, on composting. Members of a group called GVMB ( in marathi-Gacchi Varchi Mativirahit Baug-terrace gardening without the use of mud) had come over to show practicals to the students of VIII Standard alongwith a parent-Smt. Vrunda Girish Dighe, Arya Dighe's mother.
Initially, the Principal madam introduced the group to the students .Then, Vrunda explained the presentation that she had made on composting to the students and then the done.
The students also actively participted in the discussion and asked various questions which were answered by Vrunda. Towards the end of each lecture, the group showed practicals to the students. The students very enthusiastically participated in this program. They also said that some of them were already doing composting and asked doubts about the same.
Lastly, the group gave a feedback to the Principal Madam and she was very enthusiastic towards recycling of waste. She also expressed her eagerness to continue to nurture the interest of the students in the conversation of nature by holding more such programs.