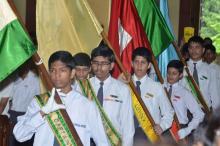 Loyola House Feast was celebrated on Saturday, 30th July 2011 with great pomp. Celebrations began with the Eucharist. The main celebrant being Fr. Paul Coutinho. The melodious choir played a crucial role in making the Eucharist even more meaningful and belted out the hymn 'Noble Knight'. The mass was attended by Ex-teachers too.
The Jesuit fathers of the Parish were felicitated for their relentless efforts and cooperation in building up a student's character.
Certificates were presented to achievers of non-academic subjects. The students dispersed with a samosa in hand and a smile on their faces.

The Staff and guests were treated to a sumptuous breakfast.
Loyola House Canteen on Wednesday, 10th August 2011, saw an amalgamation of spices, vibrant colours and mouth watering dishes brought in by the Loyola House boys. Their enthusiasm, dedication and sincere efforts helped in boosting the Staff Welfare Fund. Kudos to you Loyolites!!!!!